Selected artists — Call for proposals of 2022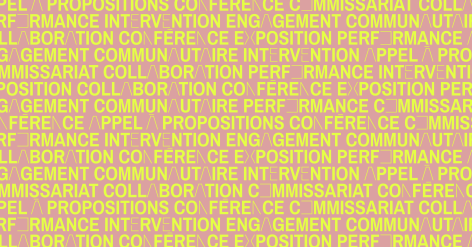 AXENÉO7 artist-run centre is proud to announce the selected artists list, following the call for proposals of Fall 2022.
Hannah Azar Strauss, Maggy Hamel-Metsos, Dominic Lafontaine, Fred Schmidt-Arenales and Joshua Schwebel's individual proposals; as well as Jody Chan and Myung-Sun Kim, and Sarah Chouinard-Poirier, Kinga Michalska and AM Trépanier's collective proposals will be part of the centre's regular programming.
Each of the laureates will benefit from an initial residency in collaboration with the centre, upon completion of which they will present their work.
In addition to exhibitions, AXENÉO7 welcomes alternative modes of presentation such as lectures, curatorial work, collaborations, performances, research presentations, off-site interventions and community engagement activities.
Bios
Hannah Azar Strauss
Hannah Azar Strauss is an artist living in Tiohtià:ke/Mooniyang, also known as Montréal. Working mainly with drawing, print, and experimental book forms, her practice explores linguistic estrangement, everyday gestures, and the cultivation of memory through archive. Her recent work has mostly developed collaboratively through slow, iterative projects inspired by the process of translation. She teaches at Vanier College in Communications, Media and Studio Arts. 
Jody Chan
Jody Chan is a writer, drummer, organizer, and therapist based in Toronto/Tkaronto. They are the author of haunt (Damaged Goods Press), all our futures (PANK), and sick (Black Lawrence Press), winner of the 2018 St. Lawrence Book Award and 2021 Trillium Award for Poetry. They are also a performing member with RAW Taiko Drummers. They can be found online at jodychan.com.
Sarah Chouinard-Poirier
Sarah Chouinard-Poirier is an artist based in Tiohtiá:ke (Montréal) who approaches performance, film, digital art and writing in a transdisciplinary manner. They create performative scripts rooted in self-writing and oral history that reveal the links between gender, work, class and somatic manifestations. Their work, which focuses on agency and the valuing of lived experiences, ideas and knowledge of the involved people and communities, has been presented in several artist-run centres, festivals and spaces. Sarah is also a frontline worker, organizer and trainer in harm reduction.
Maggy Hamel-Metsos
Maggy Hamel-Metsos (born in 1997) is an early career artist living and working in Montréal. Through sculpture, installation, photography, video and drawing, her practice invests in the history and symbolism of objects and images to create new semantic constructions by establishing connections between narratives.
Her work has been exhibited in Canada, in Germany and in the US. She is represented by Parc Offsite, Eli Kerr. Caretakers, her first exhibition in this same gallery, took place in 2021, followed by a second solo exhibition entitled Whole Wide World in 2022. Recent exhibitions include Life's Marching Band, presented at Pumice Raft (Toronto) and My Whole World, at Baader-Meinhof (Omaha). She is the recipient of the BMO 1st Art! Prize and is a laureate of the Fonderie Darling's 2023-2026 Montréal Studio Program.
Among her upcoming projects, a new solo production of works will be presented at NADA (New-York) next May.

Myung-Sun Kim
Myung-Sun Kim is an artist and a curator of Korean descent and currently based in Toronto, Canada. Her work explores questions of belonging, inheritance, silenced histories, kinship, queerness, rituals and lineage. Her current research explores the function of art/objects as communal heirlooms and how daily rituals of belonging can further shape our culture and relationships. She has presented her work across North America and in Finland, including Art Gallery of Ontario, MOCA Toronto, FADO Performance Art Centre, and Plug In ICA. As a curator, she has led curatorial programming at galleries and festivals including Toronto Reel Asian International Film Festival, Inside Out Film Festival, The Theatre Centre, Toronto Biennial of Art as the Co-Curator of Public Programming & Learning, and guest curator at the Agnes Etherington Art Centre (July-Dec 2022).

Dominic Lafontaine
Dominic Lafontaine is an Algonquin multimedia artist, poet and musician.  His audacious, humourous and often absurd artworks explore the very notions of cultural identity, meaning and belonging.  A graduate of Visual Arts at Ottawa University, he synthesizes his knowledge of traditional art forms with new media in order to redefine the visual language of contemporary native art. His motto: "Research, remix and repeat!".
Kinga Michalska
Kinga Michalska is a Polish visual artist who lives in Tiohtiá:ke (Montréal). Their work examines issues of identity, memory, displacement and haunting, using the mediums of photography and video to question the documentary stance and the function of the documentary image in the post-truth era. Their approach focuses on shared cultural spaces such as the home, territory, memory, and kinship networks through a queer feminist perspective. They are interested in the periphery of what is and what makes history: amateur historians, geological processes, queer intimacies, personal archives, oral history and speculative fiction. Their work has been presented in Montréal, Poland, England, Germany and Switzerland.

Fred Schmidt-Arenales
Fred Schmidt-Arenales is an artist and filmmaker. His projects attempt to bring awareness to unconscious processes on the individual and group level. He has presented films, installations, and performances internationally at venues including SculptureCenter and Abrons Arts Center, (New York); Links Hall (Chicago); Fonderie Darling (Montréal); LightBox and the Institute of Contemporary Art (Philadelphia); Artspace (New Haven); the Museum of Fine Arts and FotoFest (Houston); Künstlerhaus Halle für Kunst und Medien (Graz); and Kunsthalle Wien (Vienna). His recent film Committee of Six is an official selection of the Architecture and Design Film Festival 2022-2023 and the Onion City Experimental Film Festival 2023.

Joshua Schwebel
Joshua Schwebel (he/him) is a trans artist based between Tiohtià:ke (Montréal) and Berlin. Schwebel has been a practicing professional artist since 2009, exhibiting his work across Canada in artist-run centres and museums, and internationally in exhibitions, residencies, and performative contexts in Germany, France, Italy, Poland, Australia, Lithuania, and China. He was short-listed for the Berlin Art Prize in 2019, and long-listed for the Sobey Art Award in 2022.

AM Trépanier
Originally from Gatineau, AM Trépanier lives and works in Tiohtiá:ke (Montréal). Her activities interweave research and creation to propose interventions informed by social movements and struggles, community archives, alternative media, popular education and oral history. AM has participated in residencies and presented work at AXENÉO7 (Gatineau), DAÏMÔN (Gatineau), Villa Réflexive (online), Eastern Bloc (Montréal), Gold Saucer Studio (Vancouver) and Suoni Per Il Popolo (Montréal), among others. Since 2018, AM has been co-editing, with Laure Bourgault, the editorial project Cicada, dedicated to the publication and translation of writings by contemporary artists. Her writings on art and culture have been published in various cultural journals and magazines such as Sabir, Termes, Espace art actuel, OEI, esse and Spirale.