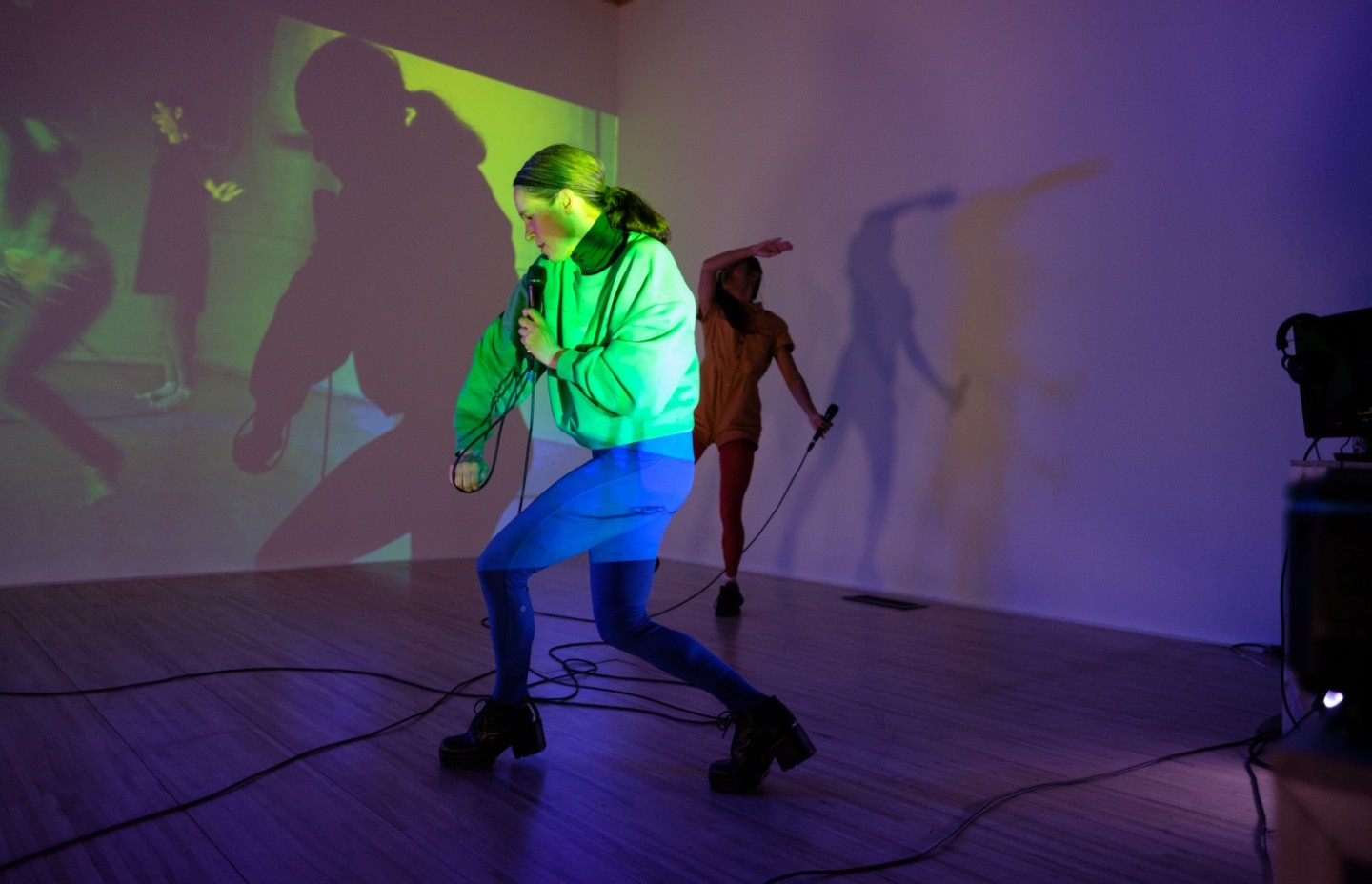 Dream Room
Katie Ward
Performance
The performance will be presented simultaneously in The Netherlands, in Gatineau, and also live streamed on Youtube.
Presentations:
Oct. 21, 2021 — 6PM
Oct. 21, 2021 — 6PM
Oct. 23, 2021 — 11AM and 2PM
Free admission
Free parking
Cash bar
Book here: bit.ly/2YTT2op
Performed by two dancers in Quebec and two in The Netherlands, Dream Room is a weird composite, like a science fiction story that blends spoken text derived from imagery, music, non-linear video capture, projection and live-streaming. This choreography offers multiple points of view, we wish to create a "dream room" beyond time and space in which spectators are invited to contemplate and imagine. "We think of the body as a place where the forces of the world are felt. As we sense our bodies, we feel the joy, the violence, and the wonder contained within. As we begin to dance, we close our eyes and feel these forces. We dance images found in our bodies such as fatigue from the pressure of productivity, flying, a punch to the stomach… We dream with our eyes open, navigating through infinite felt senses, welcoming the laughter as much as the fear when it presents itself." — Katie Ward

Following the declaration of feminist philosopher researcher Rosi Braidotti, the myth of Woman is now a vacant lot where different women can play with their subjectivity. This performance weaves together the personal and subjective contributions of the members of our team. Each offering shapes the ever-changing dance-assemblage called Dream Room.

Katie Ward (choreographer-dancer), Paula Walta (choreographer-dancer), Kim-Sanh Châu (dancer), Aida Guirro Salina (dancer), Jodee Allen (digital space and live broadcasting) Gabrielle Couillard (Sound mix and design and live and over the internet and additional sound effects), Yolande Laroche (composer), Babsie Van Aalderen (light designer), Mairead Filgate (rehearsal director), Marie-Claire Forté (artistic support), Öykü Önder (lighting), Felice Parqui (sound), Marte Bosma (Internet and video), and Gerda van de Kamp (production).

They join from across the ocean — connecting via fiber optic cables, internet waves, screens, microphones, heartfelt listening, movement, senses, libido, flesh, blood and bones.

Spectators are invited to sense and imagine these multiple viewpoints and conduits for connection.
Katie Ward
Katie Ward develops score-based imagination practices for live performance, which explore flattened hierarchies and specific frameworks for self-directed expression for collaborators. Katie's work examines the never-ending cocreation between imagination and reality. Her works invite performers and audience to surrender to change, flow, and spontaneity. Invention and imagination are at the core of these processes.
CKW's recent projects draw directly on dance and choreography, specifically the works: Anything Whatsoever (2021), imaginationreality (2019), Human Synthesizer (2017), Infinity Doughnut (2014), and Rock Steady (2010). Other projects include Vagabond Body, Machine for Really Real Imaginaries, Matière Grise, Imagination Installation — these works took place in galleries, on radio broadcasts and in other non-conventional spaces. In 2018, Katie obtained a Master of Theatre Practises from Artez University (Arnhem Netherlands).
—
Paula Walta
Together with artist Pieter van de Pol in 1996, choreographer Paula Walta founded Stichting Beeldend Danstheater Telder, whose works blend the disciplines of dance and visual art. Telder presents mainly site-specific work in non-theatre venues, during festivals, and in galleries and museums. At the moment, Telder is looking for ways to open their process to the audience — to make a space for the creative action itself in performance for a wide range of performers and disciplines, and to stay open to artistic research and unforeseen outcomes.