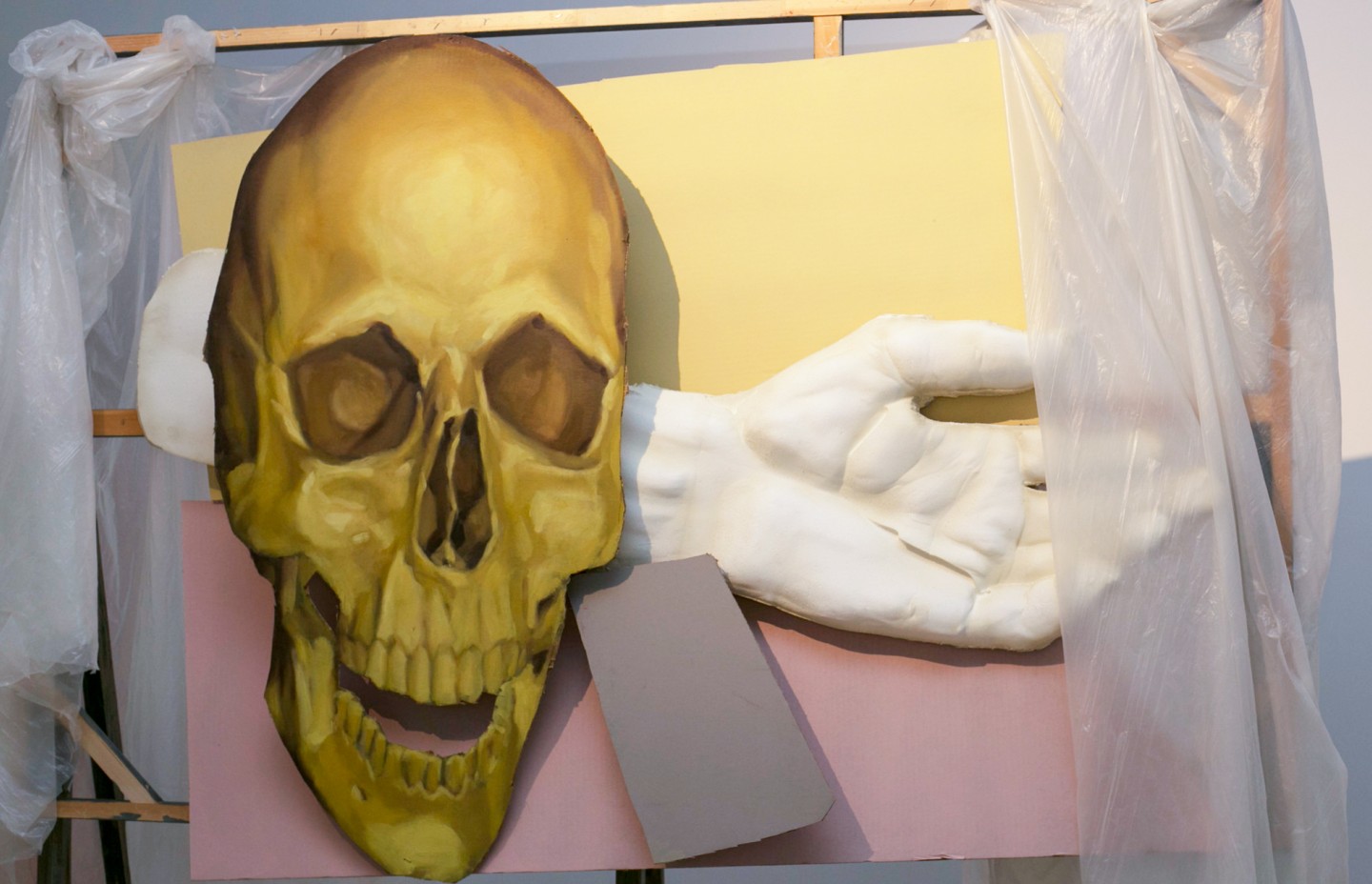 Les Rouages Écraniques
Zoltan Veevaete
Exhibition
AXENÉO7 artist-run centre, in collaboration with the Department of Visual Arts at the University of Ottawa, presents the exhibition Les Rouages Écraniques by Zoltan Veevaete, artist and MFA candidate at the University of Ottawa, as part of the public presentation of his thesis exhibition.
In Les Rouages Écraniques, Zoltan Veevaete proposes his own reflections on the manipulation of the image; the resulting impacts in contemporary society with reference to historical methods. From Plato to Descartes, through Baudrillard, the works open on rhizomatic and meditative readings by artistic and digital techniques allowing an immersive illusion in the pictorial space.
The representation and simulacrum of reality have been, in the history of humanity, means of communicating and immersing the viewer in a story. In this sense, the space of the gallery is transformed into a storeroom of scenic elements, recalling the scenes of a film set. The goal is to simulate the workings of a movie set where the viewer is transposed into a story and its final product.
The fake billboard in The Matrix is a clue to the storyline. This film presented for a whole generation a reflection on the nature of reality. The luminous orchestration creates a parallel between the apparent structure of the physical image (the body state) and the computer-generated image projection (the veiled state). Electronically generated sounds help, by their frequencies, to stimulate the cerebral hypnotic state.
This polymediatic project is presented in a context highlighting the mediation techniques of contemporary visual culture. The surfaces are used to contrast different immersive contacts. Finally, by this method, the artist addresses problems resulting from the phenomena of appearance, illusion and vision.
Artist painter for 20 years, Zoltan Veevaete navigated, at the end of the 1990s, between graffiti, mural-making and oil painting. After a two-year trip to Spain, he graduated in 2012 with a Bachelor's degree with honours from Concordia University. He is soon after represented by the Robert Poulin Gallery, where he develops a postmodernist approach and defines his visual identity. Later, in his pictorial vocabulary, he integrates symbols and contemporary references related to post-internet aesthetics. In 2016, he began a Master's degree in Visual Arts at the University of Ottawa. In this new twist, he challenges the art object and the evolution of pictorial techniques leading to the visual immersion of the viewer. He manages to develop a polymediatic art that creates a bridge between digital art and painting. In his approach, Veevaete is also interested in the hybridization of digital art and that of the mural.