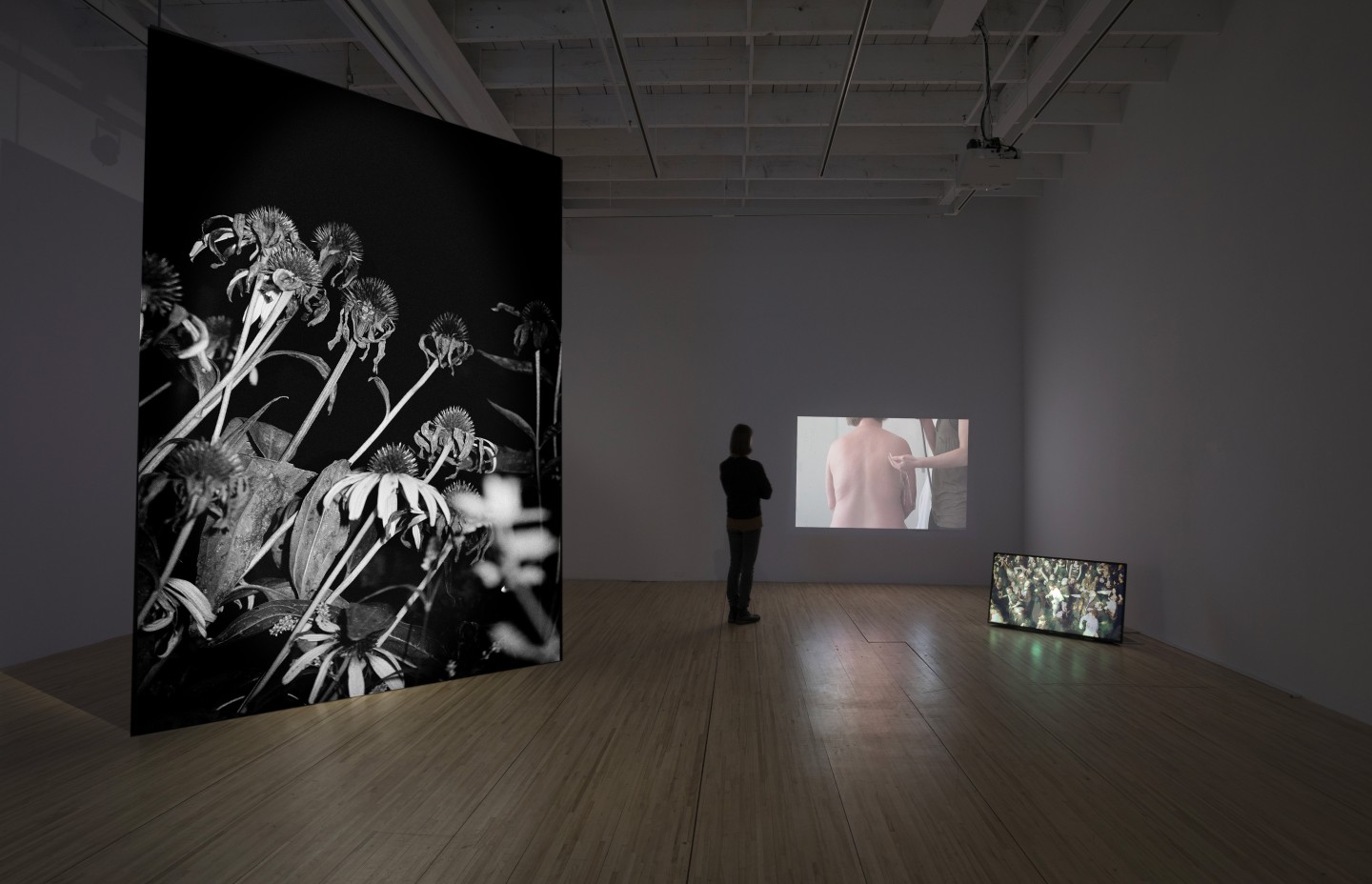 The Garden (Natural Gesture)
Anne-Renée Hotte
Exhibition
Throughout the iteration of the Natural Gesture corpus presented at AXENÉO7, Anne-Renée Hotte studies socially coded gestures, acts executed as a collective or, conversely, in intimate settings, that she demonstrates form a sensitive and entirely visual and non-verbal language — devoid of narration. Her artistic interests lead her to the dialogue between bodies: in the languid interlocking and embracing of individuals, in the acts of others synchronously struggling, swimming, walking, or playing the piano, and some even taking care of personal needs. The bodies anticipate and adjust to each other, through meticulously calculated gestures or lack thereof, through concentration and distraction. The bodies show themselves instantaneously and spontaneously to the artist's camera as she documents each moment born from human relationships with care and precision. The resulting proximity and intimacy of these moments of connection are proven to appear otherwise. In the galleries, the videographic documentation of these bodily and (inter)relational links are juxtaposed with unfocused images of wild vegetation captured randomly by the artist during one of her nocturnal wanderings in nature. The unique conditions leading to the capture of these evanescent and alarming images, on top of the usage of expired film, add a certain premeditated atmosphere to the still lives. The series of analogue photographs could seem interspersed in parallel with this lexicon of gestures, however, it presents, in all its subtlety, a multitude of formal correlations with the videos: a lingual embrace between a teenage couple, a simulated combat between two young fighters, a group of synchronized swimmers, a metal concert with its out-of-control audience, the careful placement of fake eyelashes by an aesthetician, a concert hall progressively filling itself above the performance of a piece of theatre, military cadets practising a military march, a nurse washing a woman's back. In this way, through association — and opposition — of these physical and aesthetic connections, Hotte reveals an implicit codification of cultural and natural networks; of unusual or unconscious gestures. Witnessing these emotive, intrusive, or even intensive moments, the visitor of the exhibition The Garden (Natural Gesture) becomes spectator and, by turns, voyeur.
— Jean-Michel Quirion
Graduating in photography from Concordia University (2010), Anne-Renée Hotte completed her master's in visual and media arts at the Université du Québec à Montréal in 2016. Her work has been presented abroad and in Québec, notably at the Musée d'art contemporain des Laurentides, at Galerie Artem (Quimper, France), at the Gallery of the University of Indonesia (Jakarta), at Volta NY (New York, United States), at the Galerie de l'UQÀM (Montreal) and Galerie Trois Points (Montreal). Anne-Renée Hotte will be in residence at PRIM (Montreal) during the year 2020. She is currently working on a new work which will be presented in a solo exhibition at the current art center Dazibao (Montreal) in 2020. Anne-Renée Hotte lives and works in Montreal.