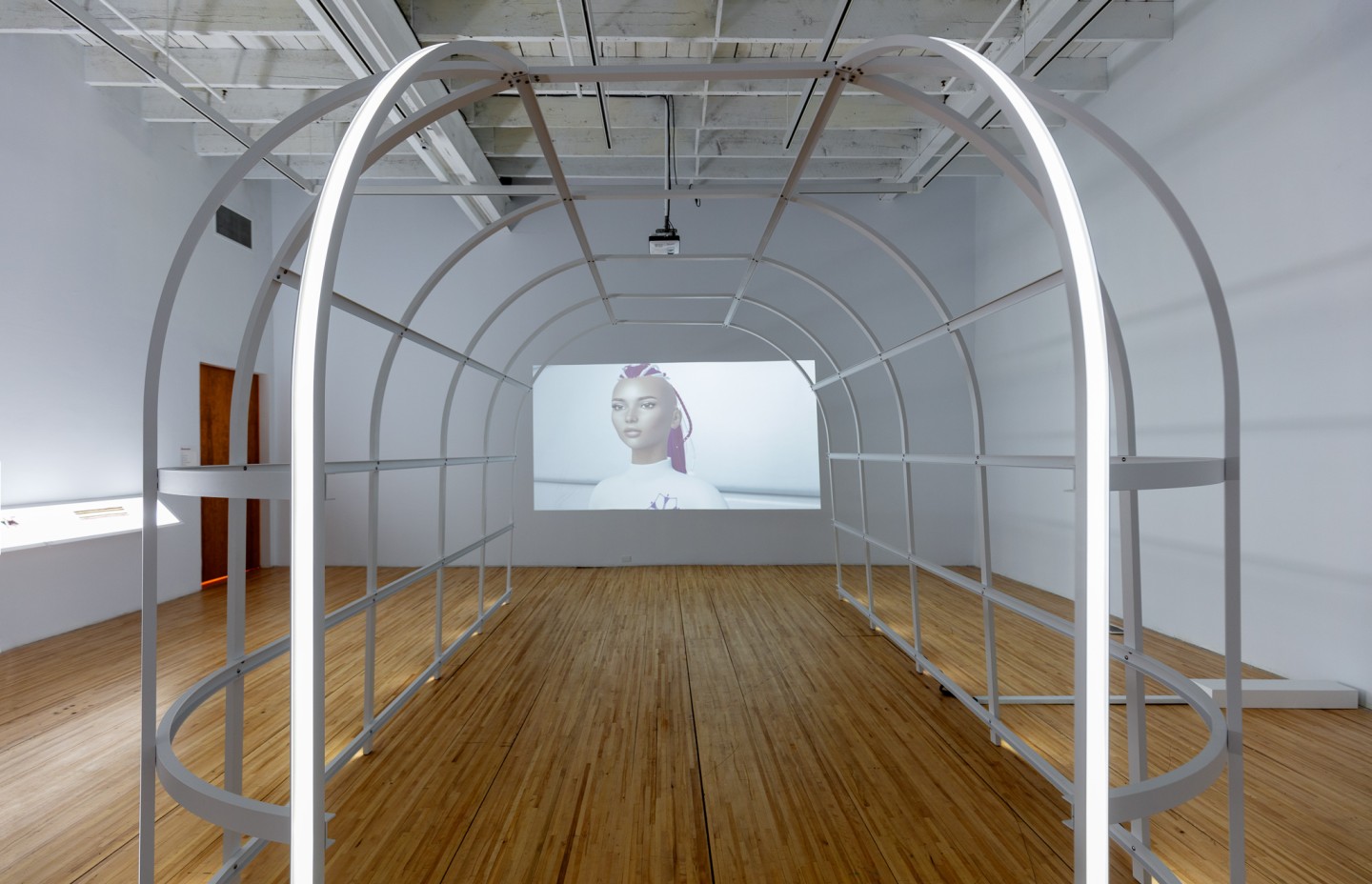 Teiakwanahstahsontéhrha' We Extend the Rafters — Children's exhibition
Skawennati
An exhibition produced and circulated by VOX — Centre de l'image contemporaine
My name is Iotetshèn:'en, and I live on Earth-usually. Our planet is united under the Great Law of Peace. […] Earth has been attacked by more than one visitor from outerspace, and our harmonious way of life is being threatened. So for now, my home is this spaceship. We are travelling to the first meeting of the five nearest, friendliest planets in our galaxy. The goal of our mission is to create a union that will protect us from attacks and also help us share our very different knowledges. I have been invited on this historic voyage because I have a special power…

Thus begins The Peacemaker Returns, a futuristic saga set in 3025 yet firmly rooted in the ancestral Haudenosaunee (Iroquois) confederation story and featuring historical figures such as Tekanawí:ta, Jacques Cartier, and a president addicted to Twitter! This new machinima — an animation — style movie produced on the virtual reality platform Second Life — is the core of the children's exhibition Teiakwanahstahsontéhrha' | We Extend the Rafters, designed specifically for kids aged 5 to 11 by Skawennati. Audiences of all ages are invited to (re)discover some traditions in the artist's "museum of the future," an original installation. A guided tour and a collective workshop in the form of an innovative board game will encourage young and mature viewers alike to (re)learn history from an Indigenous perspective and imagine how all people can contribute to the world of tomorrow, reminding us how History, like any other narrative, is a construction defined by those who tell it.
Skawennati makes art that addresses history, the future, and change from an Indigenous perspective. Best known for her machinimas — movies made in virtual environments — she also produces still images, sculpture and textile works.
Her pioneering new media projects include the online gallery/chat-space and mixed-reality event, CyberPowWow (1997-2004); a paper doll/time-travel journal, Imagining Indians in the 25th Century (2001); and TimeTraveller™ (2008-2013), a multi-platform project featuring nine machinima episodes. These have been presented in New Zealand, Hawaii, Ireland and across North America in major exhibitions such as Now? Now! at the Biennale of the Americas, and Looking Forward (L'Avenir) at the Montreal Biennale. Skawennati is represented by ELLEPHANT and her award-winning work is included in both public and private collections.
Born in Kahnawà:ke Mohawk Territory, Skawennati holds a BFA from Concordia University in Montreal, where she is based. She is Co-Director, with Jason E. Lewis, of Aboriginal Territories in Cyberspace (AbTeC), a research network of artists, academics and technologists investigating, creating and critiquing Indigenous virtual environments. She also co-directs their Skins workshops in Aboriginal Storytelling and Digital Media. In 2015, AbTeC launched IIF, the Initiative for Indigenous Futures; Skawennati is its Partnership Coordinator.