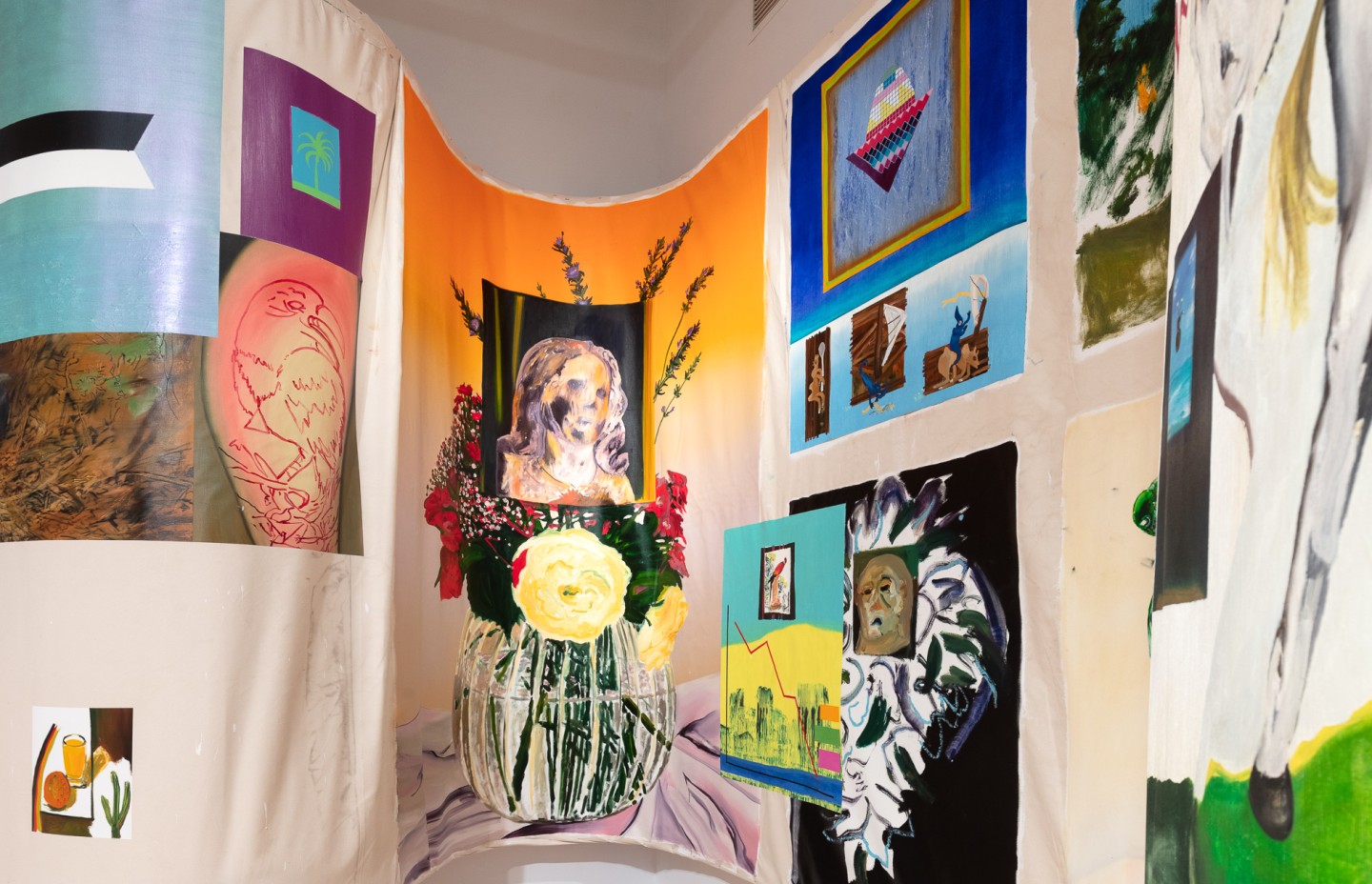 Encounter of the Third Kind
David Bellemare
Exhibition
Invited by David Bellemare, performance artist Sébastien Gandy (Montreal) decided to play the game of the Encounter of the Third Kind exhibition. In order to transcend the painter's world, Gandy has devised a brand-new play, a kind of ritualized event that attests to an encounter with beings from elsewhere. Adorned in ceremonial dress and surrounded by religious objects, Sébastien Gandy will offer a series of symbolic and liturgical gestures to welcome each visitor at the opening reception. The playful and exuberant visual aesthetic of his performative practice echoes Bellemare's enigmatic approach.
David Bellemare's Encounter of the Third Kind is a continuation of Magic or the Philosophy of Desire (2016), an immeasurable, immersive work of about 39 meters in length, split up in a series of vignettes painted on the same piece of canvas.

Beyond the iteration of this immense canvas, Bellemare continues his pictorial experiment by superimposing various interventions disseminated and dissipated from one end to the other of the work, without however erasing the initial content. Thus, expressive elements are sketched or variegated impulsively onto figurative planes.

From the outset, the scenic vignettes served as enigmatic magical invocations or symbols — sigils — while new images, more virulent, are true cries of the heart to save humanity from imminent dangers. This emancipative expression exerts an attractive force towards higher beings coming from the universe — the Extra-Terrestrials. Indeed, they would have contacted the artist and conferred on him the title of Emissary of the Society of Cosmos. Their apocalyptic ideas are telepathically communicated to the artist and found conceptually and formally transposed onto the canvas.

Be that as it may, this Encounter of the Third Kind, circumscribed in the space of AXENÉO7, represents a dreamlike cosmos, at times catastrophic and dystopian, created consciously and unconsciously by David Bellemare.
David Bellemare (Montreal) is from the Outaouais. He holds a Bachelor's degree in painting and drawing from Concordia University (2014). He presented his work at Parisian Laundry (Montreal), at Casino Artspace (Hamilton) and at Centro Morelos de Los Artes (Cuernavaca, Mexico).
Sébastien Gandy (Montreal) is a multidisciplinary artist from Gatineau. He is currently completing his Master's degree in Visual and Media Arts at UQAM. He has participated in two exhibitions during the last year, Pavillon at the Montreal School of Fine Arts and Prendre lieux at the Écomusée du fier monde (Montreal).