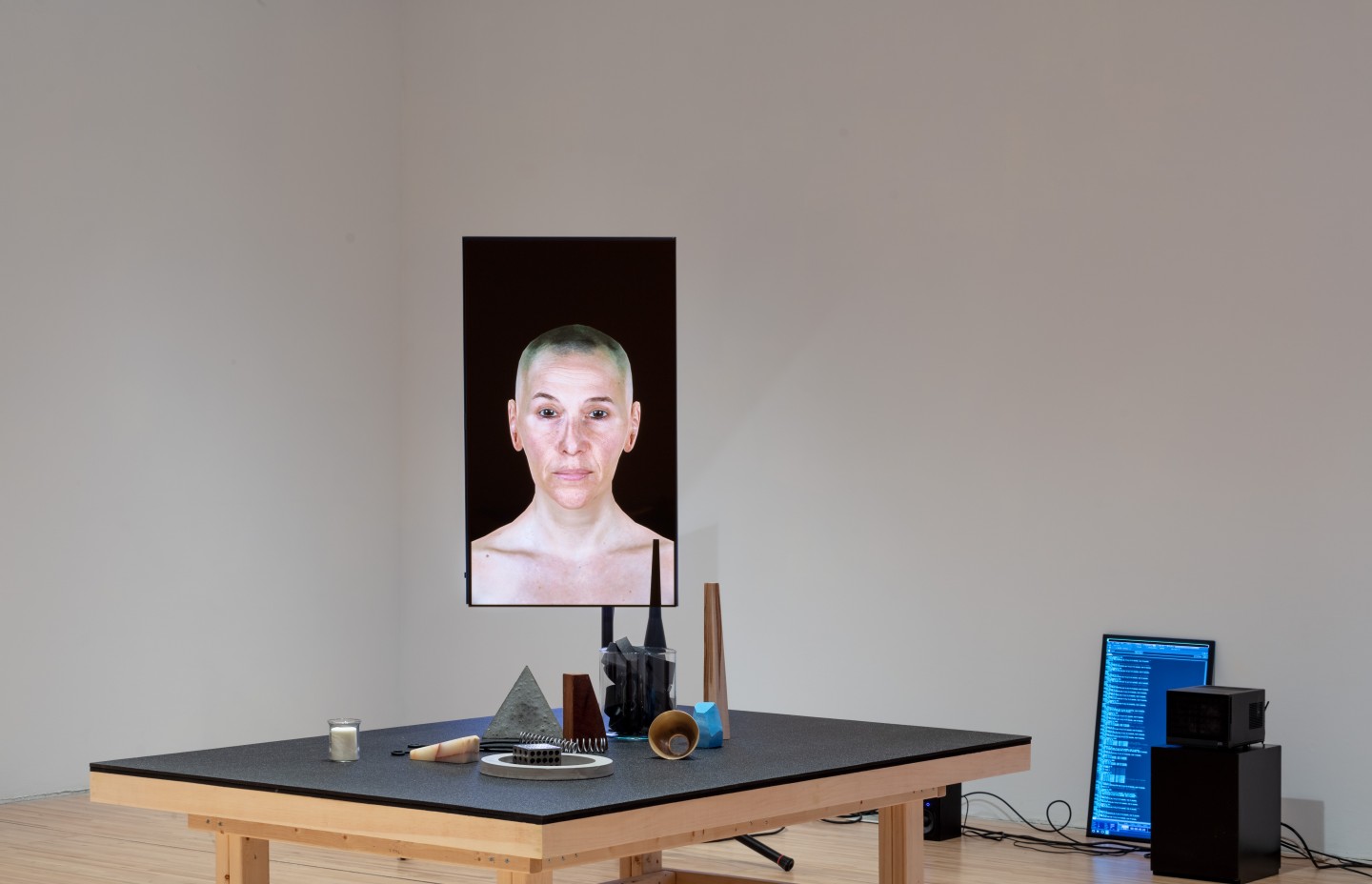 Les Entretiens
Sébastien Cliche
Exhibition
The artist wishes to thank Tania Parent and Paul Patrick Charbonneau.
This work was created with support from Conseil des arts et des lettres du Québec.
Programming: Johann Baron Lanteigne
Two robots meet for a series of interviews. Using a closely monitored protocol, they ask each other questions on the limits of language, their ability to feel anxiety, and on the difference between usefulness and uselessness. In the process, they alternately doubt, hesitate, and protect themselves.
This philosophical fiction explores the theme of artificial intelligence and its fantasized representation in today's society. We generally think of AI as a superhuman copy of the human, limited only by a deficit of rationality that might otherwise allow it to decode contradictory or fragmentary interactions. In order to properly imitate human intelligence, does a robot have to go through a process of "regression", involving confusion, insecurity and bad faith? Beyond the presumed intelligence of machines, this body of work points to artificial intelligence's original point of reference — natural intelligence, an intelligence that manifests itself through the complexity of human dialogue.
In the installation, objects are placed on pushcarts and a large table: polyhedrons and other three-dimensional forms, made from various materials in various ways, some irregularly shaped, some complex. This heterogeneous collection is left for visitors to explore, without any specific instructions. We can thus handle these objects, examine their forms and textures, and arrange, classify, or simply observe them as we see fit. This is, in a sense, a game without rules, a constantly changing theatrical production that always draws from the same vocabulary.
In this situation, visitors are invited, on the one hand, to listen to a conversation between two robots, and, on the other, to freely handle mute forms. The relationship between these two possibilities is centred both on the simultaneity and synergy shared by distinct attention spans, and on the tension between the intangibility of speech acts and the materiality of objects. Does the handling and observation of the objects create a particular sort of attention to the robots' conversation? Does listening to their dialogue influence the way we perceive or arrange the objects?


Sébastien Cliche is a multidisciplinary artist living and working in Montreal. Over the past two decades, he has produced installations, as well as textual, video and sound works. The artistic systems he creates explore the question of control, both psychologically and socially speaking, and require some involvement on the part of visitors. His work has been presented in solo and group exhibitions, notably at Centre d'art contemporain de Meymac (France, 2008), Œil de poisson (Québec, 2010), Momenta Art (New York, 2013), CIRCA (Montréal, 2015), le Lieu (Québec, 2017), and in respected festivals such as MUTEK (Montréal, 2005 and 2010). In 2012, he received the Claudine and Stephen Bronfman Fellowship in Contemporary Art. In 2014, he published Doulbings a book about the project La doublure presented at Galerie de l'UQAM (2012).