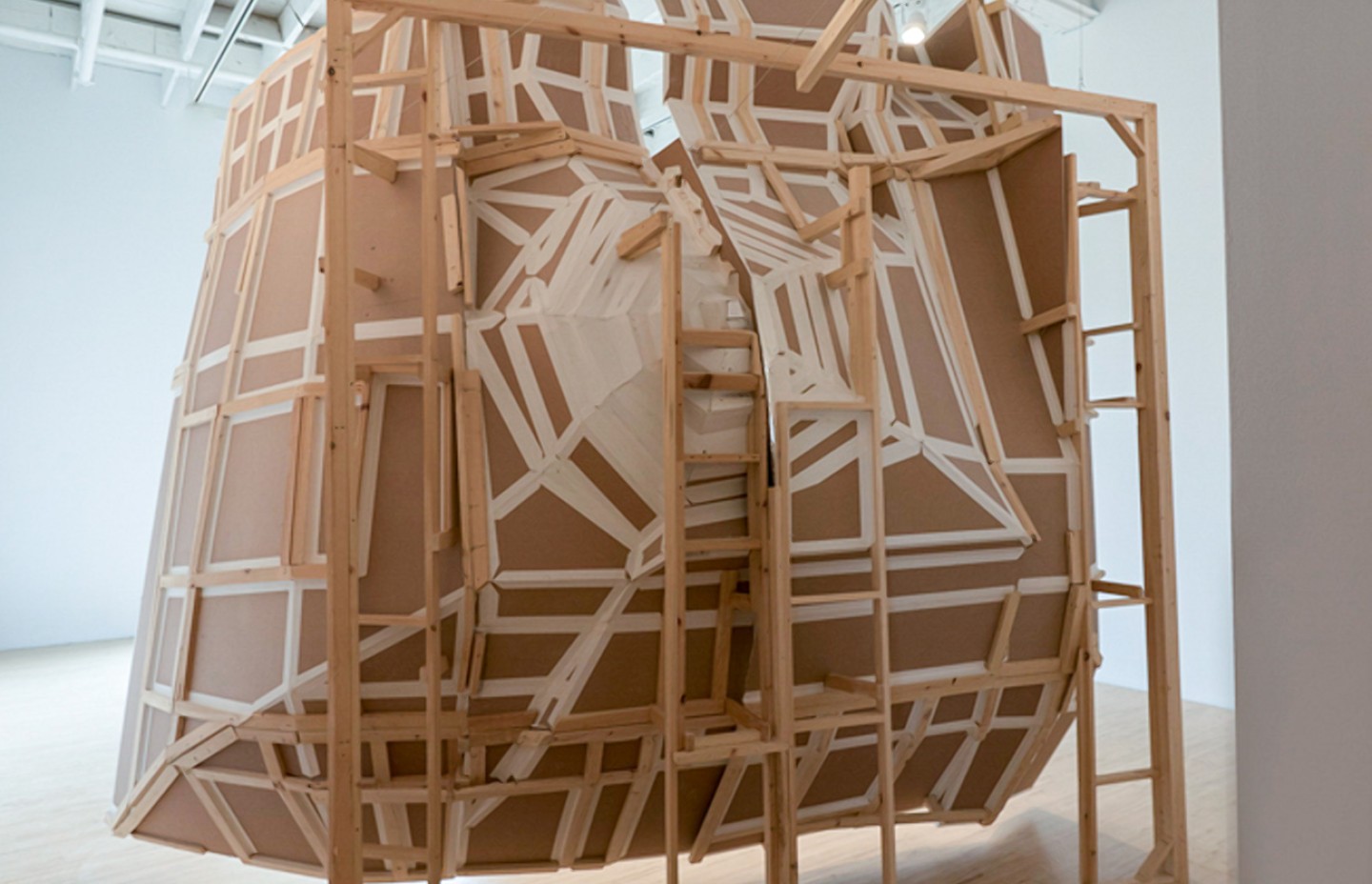 Fictions d'atelier
Francine Lalonde
Exhibition
Living Pillars

The 1st of August had already long past. That's the date the artist had chosen to send me her 'rough notes', as she described them, from the woods where she was staying, so that I would understand what the video brought to her sculptures. I had to make something of these notes without knowing the direction my text would take, as if I, too, was going to shape, model, add more than take away — in other words, do some sculpting of my own.
Usually, when the deadline for a text approaches, and particularly when I feel a genuine sense of familiarity and even complicity with the work that I am to discuss, I am not afraid to let the words flow; this was certainly the case for Francine Lalonde, as I was emboldened by the fact that our conversations had flowed freely from the offset.
While sculpture is central to her practice, Lalonde's sculptural language is given new life through her video work. Animated sequences derive from hand-made constructions — first models, then photographic images. The initial model is often cut into, deconstructed, or maybe covered up, for the sake of fluidity, even aesthetics, or to remove the pre-existing aesthetic: to pare it down, bring it back to basics and its bare bones, forget the model and get to the essence… The images are then organized into brief moments, the sequences juxtaposed according to a language or code: such is the reflexive and cognitive process with which Lalonde organizes ideas. Wittgenstein would have called this no more nor less than a 'language game' and this notion of play seems to me to be essential in understanding the liberty that the sculptor takes with the places that she takes possession of, that she disfigures in order to make them her own. When her physical, three dimensional sketches come to life, the artist makes the creative process reappear and she edits them in a way that asserts a sense of what could primarily simply be seen as manipulation, play, cutting out, or collage, for example.
In the real space of the gallery, only one of the video's proposals will be realized. To decide which is to choose and to choose is to omit. The video enacts the dreamlike operation that every artist and exhibition curator has (or at least should have) done many times, in mentally running through again and again the different possibilities for the space and the works to be exhibited. Francine Lalonde, however, has nothing to hang — and if she does hang a relief on the wall, it will have already been assigned to a particular wall, so as to change the appearance and flatness of this vertical boundary that stops us and our gaze.
The wall contrasts with the forest and there the artist, who has not given up on a return to the woods, can only look for these 'living pillars' that are not necessarily sources of correspondence and mystery as in Baudelaire's poem, but that are malleable enough, like a trunk in its natural surroundings, to take innumerable forms. While these imaginary trees do not all resemble pillars or columns, the geometric elements that she slips on, or between, the walls have a tendency to put the viewer off-kilter. Nothing is impossible to sculptors and it seems that, as a forest fairy, Lalonde sets about disorienting the viewer, who lingers just for an instant and is surprised to find themselves still there an hour later. We can imagine the artist laughing about this, but what matters to us here is rather this subtle confusion, this gentle arrangement that she manages to impose where nothing should have broken the monotony of a wall parallel to a façade, of an angled door, and of a column, perhaps in the middle of the room…
The sculpture necessitates some kind of magic operation that only those who live in the enchanted glades know how to perform.

— François Michaud, between Paris and Lyon
Francine Lalonde studied fine art at Concordia University and UQAM and translation at Université de Montréal. Her work has been presented in solo exhibitions in various artist-run centres and galleries in Montreal and Canada. She had studio-art residencies in Paris and Barcelona and will stay in Linz later this fall. She participates regularly in government public art programs to integrate art into architecture in Montreal and regionally, and since 2000, she has been teaching in the fine arts department at Collège Édouard-Montpetit. She lives and works in Montreal.
François Michaud is curator at the Musée d'Art Moderne de la Ville de Paris, having previously been curator at the Musée International de la Chasse in Gien, France. He co-curated the exhibition Zao Wou-K: L'espace est silence with Erik Verhagen, which runs at the Musée d'Art Moderne de la Ville de Paris until January 2019, and has curated numerous exhibitions of contemporary art, including the recent exhibition of work by David Altmejd, Flux, which he curated in collaboration with Robert Vifian and in partnership with the Musée d'Art Contemporain de Montréal.