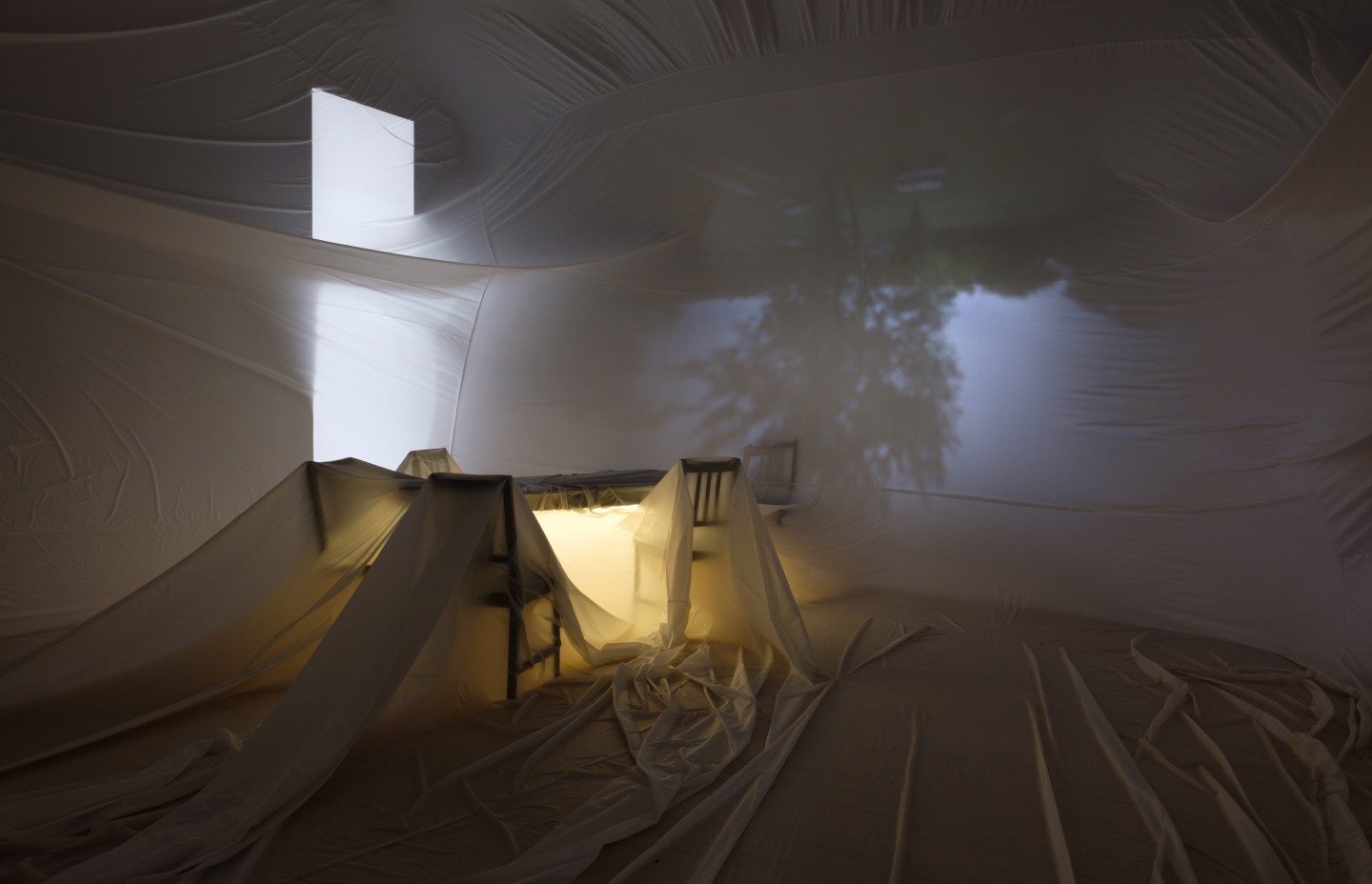 Compressions : tables préparées
Alexis Bellavance
Exhibition
In Compressions: prepared tables, an installation by artist Alexis Bellavance, six chairs and a table are presented under an immense inflated sphere within the gallery. The contours of this sphere dissipate in the boundless material of white fabrics. The furniture — which is not usable — is crushed under the pressure of the air: their forms reveal themselves nonetheless through the imprint of their outlines. Dissimulated behind the compressed sphere, contained and delimited, the gallery's only window is entirely obstructed with the exception of a meagre circular opening acting as a camera obscura. The diffuse light creates vaporous and nebulous imagery, offering an atmospheric and retroprojective perspective, one which subtly submerges the installation. Only the fleeting silhouettes of trees and of a few buildings against the horizon appear, reproducing the indistinct, ethereal and indeed almost entirely erased landscape. This evolving imagery is nonetheless subjected to variations of natural lighting in addition to meteorological conditions. The outside thus finds itself transposed to the inside through a voluptuous — and mostly experiential — visual. Parallel to another reality, the environment is rendered inside out and in constant flux.

Visitors are confronted by the sphere, made accessible only through a slim opening. Once inside, they find themselves within an installation both immersive and contemplative through a sort of architectural gap. Mise en abyme, the inflated form itself becomes both the installation and the exhibit space at once, serving as an expo-graphic device that reconfigures the limits and the landmarks of the compressed space.

Through this fog in space-time, Bellavance, in his way, participates in the redefinition of the act of "compression", thereby revealing its allegoric potential.

Compression: the act or action of compressing; the state or condition of being compressed.
Compression: inflating or compressing a form within a space of limited size.
— Jean-Michel Quirion
Multidisciplinary artist, Alexis Bellavance works within time. His findings, sometimes loud, sometimes silent, are concrete observations of his surroundings. Cycles, positions, laws, echoes, materials, become the segments of conceptual scaffoldings that leads to multiple disciplines: audio art, performance, installation, photography. The consequences of his work are empirical results emerging from his attention to reality and certain of its accidents. He is co-founder of the Montreal based performance art event VIVA! Art action, and an active member of the art center Perte de Signal. Alexis Bellavance's work has been presented in numerous events, festivals, galleries and artist-run centres in North America, Europe and Asia. He lives in Montreal. He is a candidate for the MFA Studio Arts InterMedias at Concordia University.