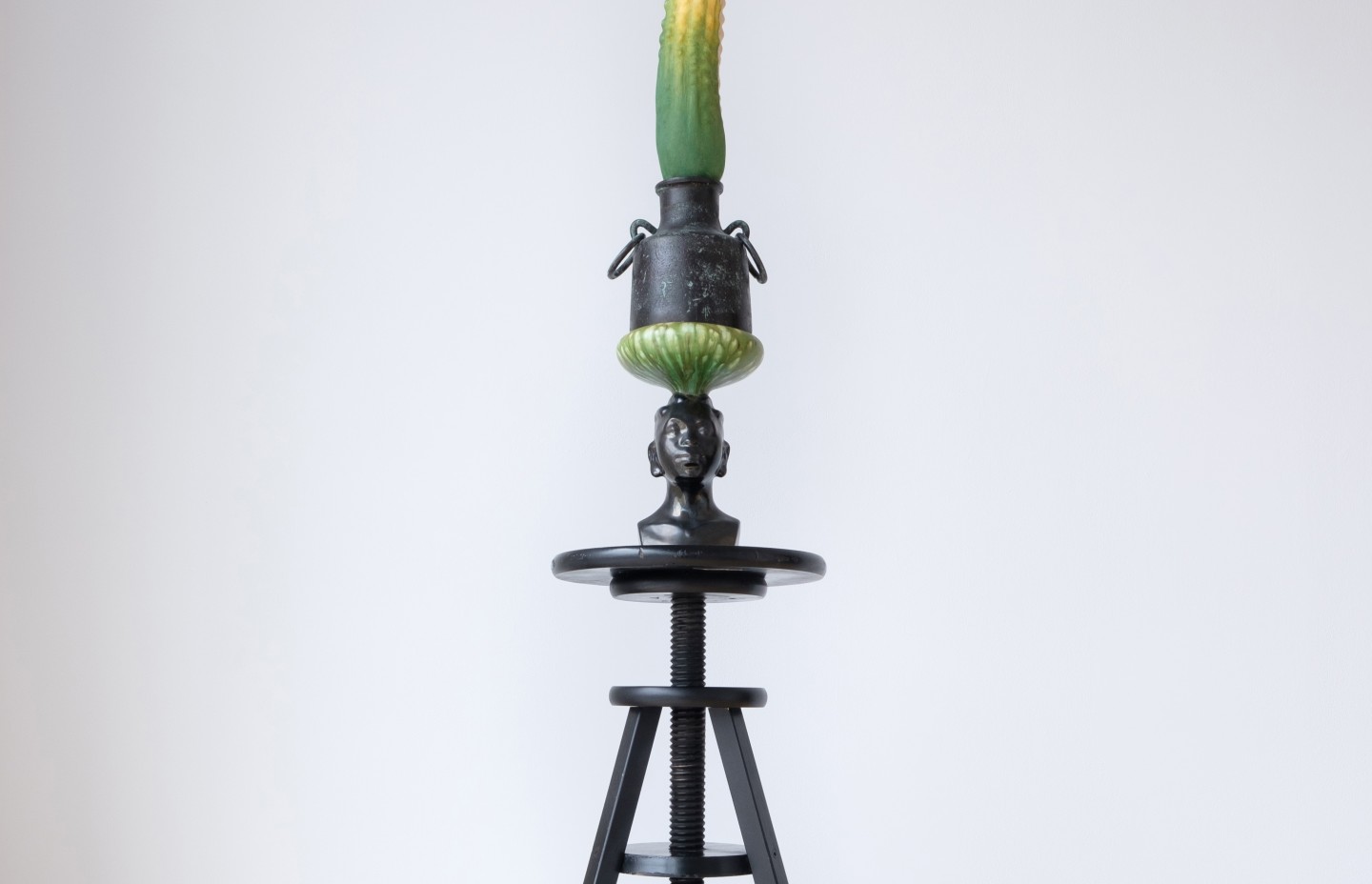 à L'ABRI de la pensée
Miguel-Angel Berlanga
Exhibition

Opening reception
Miguel Angel Berlanga's unclassifiable practice consists of anachronistic assemblages of found, collected, or unconsciously manufactured objects. In comparison, art history is based on a set of categorizations which, despite theoretical flexibility and disciplinary malleability, define the norms of knowledge and lead to a hierarchy of art objects.

For his exhibition à L'ABRI de la pensée, Berlanga draws from his collection of objects to create composite montages. The artist's (two-)three-dimensional pieces include nods to classical — canonical — statues, ready-made sculptures, popular culture, design and architecture. By borrowing and twisting the traditional — empirical — technical knowledge of the last centuries, he highlights the fragmenting of this heritage through his caustic approach to academic sculpture. The convoluted forms harbour resolutely plural references and invite the possibilities of the improbable and the indescribable. It, therefore, seems pointless to attempt to categorize Berlanga's works given the many re-appropriations of inspirations they project. — From the exhibition text
Born in Madrid in 1951, artist Miguel-Angel Berlanga has lived and worked in Gatineau since the early 1970s. A graduate of the School of Applied Arts and Artistic Professions (Escuela de artes aplicadas y oficios artísticos) in Madrid in 1965, Berlanga is actively engaged in the arts and cultural communities of the Outaouais and National Capital regions. He has had numerous solo and group exhibitions, notably at Occurrence, espace d'art et d'essai contemporains (Montreal, 2008), the Biennale nationale de sculpture contemporaine de Trois-Rivières (2006) and at the Vaste et Vague artist-run centre (Carleton-sur-Mer, 2005).
For more than four decades, Berlanga's artistic practice has featured conceptual, pictorial and sculptural works as well as major public art projects — recognized and hosted by a number of Canadian institutions and government agencies. He participated in and founded A & B associés in the early 1980s and the Agriculturel group in the following decade. He has also received several grants from the Canada Council for the Arts, the Ontario Arts Council and Canadian Heritage.
Berlanga has previously presented solo exhibitions Autopsy (1985), Nature morte et L'ordre du chaos (1988), Paraboles (1993), L'œuvre au noir, l'œuvre au blanc, l'œuvre au rouge (2004) accompanied by the publication Faire œuvre d'incrédule (2004), as well as group shows De cassis et tractatibus (1994) and En cause Brancusi (1997) at AXENÉO7 artist-run centre.