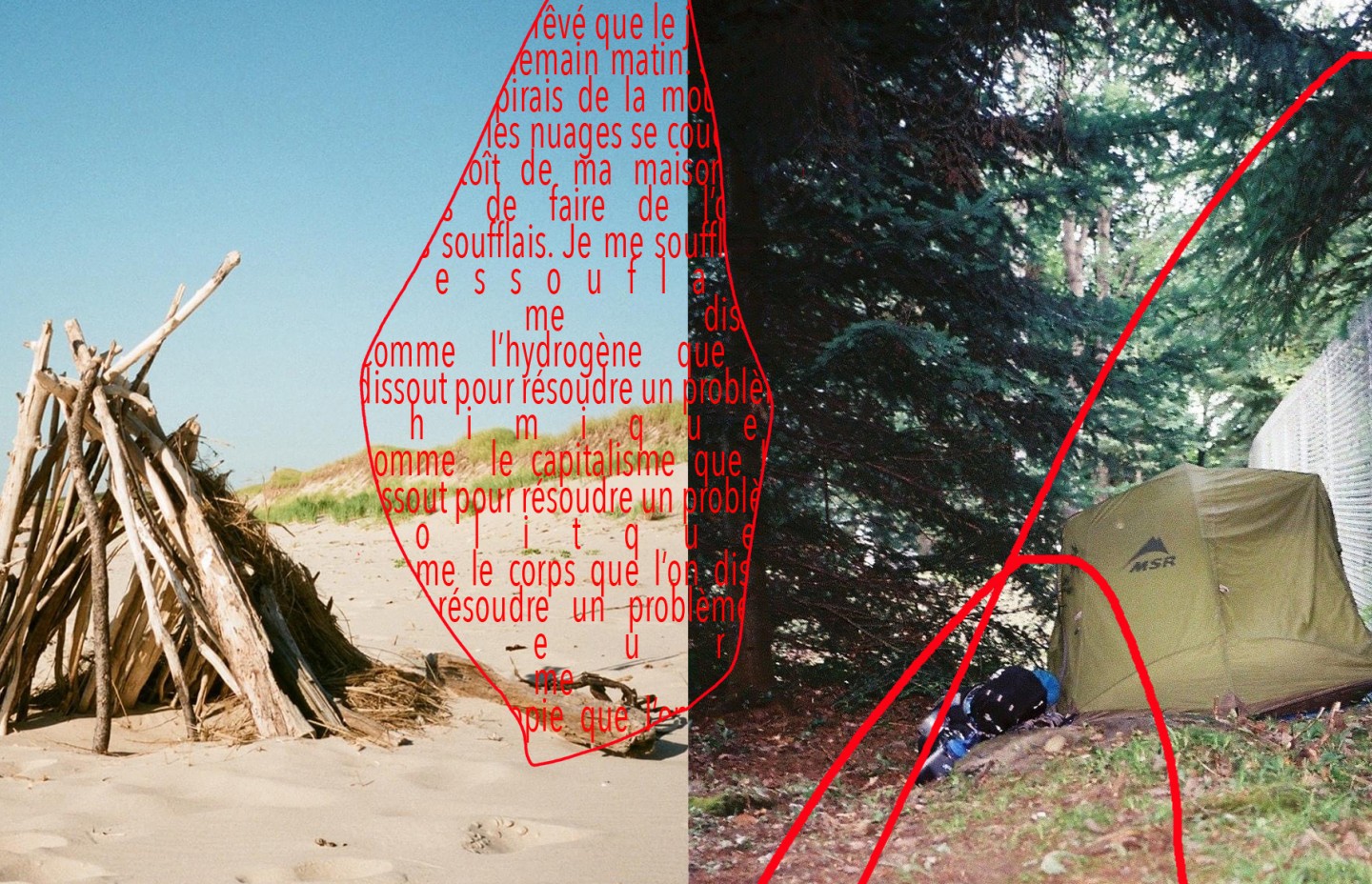 ZAD (ponos III)
Lauranne Faubert-Guay
Performance

Artist talk
ZAD (ponos III) is a three-day ongoing performance taking place in AXENÉO7's exhibition spaces. The centre will be open from 6.50am to 7pm on 28, 29 and 30 September 2023.
This performance is presented as part of the cross-residency with DAÏMÔN production Centre.
ZAD (ponos III) is an extended multidisciplinary performance combining dance, theatre and ultramarathon. This work is the third in a series of choreographic creations on the themes of asceticism, self-sufficiency and resilience. Each of the pieces in this series is entitled "ponos," an ancient Greek term referring to the physical and psychological trials ancient ascetics put themselves through.
With this work, the artist seeks to foreground the surprising strength that resides within us, and to emphasize its potential for struggle and degrowth. How can this strength enable us to live better, with less?
Armed with their equipment, sleeping bags and food supplies, four performers occupy AXENÉO7's exhibition halls for 72 consecutive hours, turning them into survival camps and self-sufficient living quarters. These hermitages, which evolve over the course of hours and days, are their temporary living spaces, where they can take up positions, meet and let themselves be transformed by the ongoing practice of their art.
This performance, which calls for perseverance and endurance, is in fact an act of gratitude. The passionate and determined performers devote their time and energy to their respective practices, which allow them to protect their physical and symbolic territory. Like activists who occupy "zones to defend (ZAD)" and dedicate themselves body and soul to ensuring their protection, they use their art to protect their bodies and their imaginations: the very zones we must defend.
Here, running, theatre, dance and the first breaths of life come together in a desire to break free from the social oppressions that stifle creative impulses. This work activates a "zone à défendre": a radical, supportive and safe space where individualities can be liberated through their cries, their laughter and their tenacity.
Ecology, empowerment and radicality are deliberately at the core of this creation.
Lexicon
Zone to Defend or ZAD (French: zone à défendre): Land, often located in rural areas, that's threatened by the implementation of real estate and infrastructure investment projects designed to maximize the profits of private companies. These territorial zones are occupied by activists who wish to protect the environment and preserve the quality of life of local populations. ZADs generally take the form of open-air "squats" and self-sufficient living spaces, based on solidarity and autonomy.
Ponos: In Greek mythology, Ponos is the god of pain and hard labour. The term is used three times in the Bible to designate both intense desire and pain. It thus refers to the physical and psychological trials that ascetics put themselves through to become more self-reliant, resilient and therefore freer beings.
Lauranne Faubert-Guay / Artistic director and performer

Lauranne is a transdisciplinary artist, trained in the visual arts, sociology and contemporary dance. Lauranne likes to think of her artistic approach as a praxis, a philosophy in movement. Aware of the urgent need to change our way of being-in-the-world, notably by adopting a minimalist lifestyle, she is more specifically interested in the ascetic body and its capacity for self-sufficiency. Her artistic work is a quest for empowerment, at the heart of which are notions of ecology and autonomy. It sets itself apart via a gestural style that is both gentle and sustained, at the intersection of challenging trials and emancipation, effort and satisfaction. Since 2019, Lauranne has been backed by several arts institutions for her choreographic creations, which are presented in Montreal and the Outaouais region. Lauranne is also the founder and director of Devenir(s) corps, an organization currently developing a residency and practice space for the performing arts in Montpellier, in the Outaouais region.
Félix Collard / Performer
Trained in drama at UQAM, Félix is a physical and passionate actor who embodies his characters with intensity and honesty. He approaches acting as a privilege that lets him make people dream, stir their emotions and shake them up. For him, acting is above all about sharing, rebellion and, above all, love. He was in high school when he took his first steps on stage and thus discovered theatre and improvisation. Over the years, a solid passion for improvisation grew and became a central element of his practice. In 2022, he made his professional theatre debut with the Jeune troupe du Quat'sous, directed by Catherine Vidal, in a play by Étienne Lepage, Trop Humain. Since leaving school, his main interest has been acting, but he has also dabbled in playwriting. Félix also has a strong background in martial arts, which enables him to play in a physical, embodied way.
Alexandre Harvey / Performer
Alexandre Harvey has worked as a musician, sound-effects and sound designer in the field of puppetry for the past ten years. He is the co-founder of the company La Ruée vers l'Or with puppeteer Anne Lalancette, with whom he shares the writing and direction of several pieces for adults. Their latest play, Racontars Arctiques, adapted from short stories by Danish author Jorn Riel, is currently touring Europe, North America and Mexico. Alexandre divides his time between Quebec and France, where he is working on founding an artistic residency in the Drôme provençale mountains. Alexandre Harvey is also an ultramarathon runner with a rigorous daily trail-running practice that has enabled him to run races of over 100 kilometers in North America and France.
Maude Archambault-Wakil / Video artist
Maude is a contemporary dance and video artist based in Montreal. She holds a B.A. in contemporary dance from the Université du Québec à Montréal. Enthusiastic, committed and curious, she is interested in the blending of different artistic practices: dance, visual arts and performance. More recently, she has embarked on a career as a movement videographer, producing her first short dance films: Je suis ce fameux corps, Tagz, Intérieur/Soir, Dysphorie. Thanks to her background and in-depth knowledge of the dancing body, she is able to create images that are both poetic and highly precise. She questions the body and its functions with talent and aestheticism.
Zola Palacio-Faubert / Performer
A little 5-week-old being discovering the world and their senses.
Naomie de Lorimier / Sound designer
N NAO, aka Naomie de Lorimier, is a Quebec singer-songwriter who has been involved in the underground scene for a million years. She explores experimental romance through nature, video and music. Between childhood and adulthood, she studied classical cello, voice and jazz composition. More recently as a fine arts student at Concordia University, she has created compositions in a performative approach inspired by ritual. On stage, she takes risks. Known for her magical presence, Naomie sings with Klô Pelgag, Marie-Pierre Arthur and Safia Nolin, among others. She has opened for a number of artists, including Sarah Pagé, Ariane Moffatt and Patrick Watson. Her album L'eau et les rêves, released last spring, was nominated on the 2023 Polaris Music Prize long list.
Nerea Chabot Soloaga / Sensitivity guardian
Nerea Chabot Soloaga is a midwife from the Outaouais region. After completing a bachelor's degree in anthropology and several social interventions here and elsewhere, her desire to contribute to a more feminist and degrowth-oriented world led her to begin a bachelor's degree in midwifery. Her journey is punctuated by numerous changes: the birth of her 1st child, travels and artistic collaborations. Graduating in 2019, she had the privilege of going to work in birth delivery care in Eeyou Istchee Baie-James. She has returned to the Outaouais since the arrival of her 2nd child, but will continue her commitment to Cree families and future midwives this winter. The processes of transformation and empowerment she witnesses through her work is what most moves and inspires her. A lover of the living arts, she is delighted to be the guardian of spaces for other kinds of gestations and births.