HB n° 8 — Écritures — Automne 2021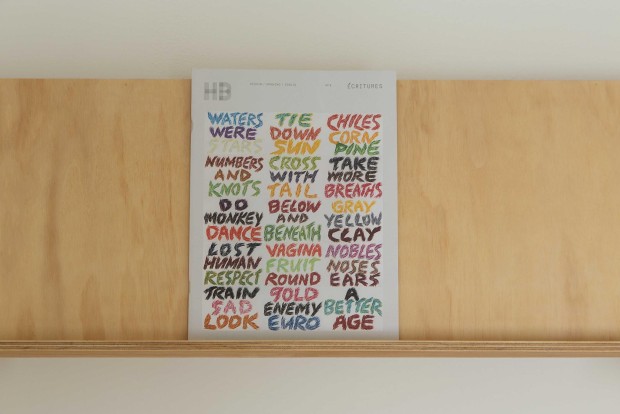 The history of art is dotted by many instances of writing found within the works themselves, whether by the addition of figurative or symbolic signs, words, letters, etc. or by the use of words or letters. Writing has become a recurring motif in artistic production since the 20th Century Avant-Garde movement. It is what visually shapes thought, ideas, individual, or collective speech. The text can sometimes accompany the drawing - putting forth a message to be conveyed, be it assertive, critical, or humorous. Thus, the use of the written word allows artists to reveal certain aspects related to the practice of the arts, by unveiling their situation or by questioning the environment and the practice itself.
Artists
Sébastien Aubin, Simon Bertrand, Sylvie Cotton, Isabelle Guimond, Claire Greenshaw, Edgar Heap of Birds, Emmanuelle Jacques, Shan Kelley, Dapper Bruce Lafitte, Sarah L'Hérault, Les Sabines, Walter Scott.
Curators
Marie-Pier Bocquet, Corine Lemieux, Ariane Plante, Manon Tourigny
Editor
Number
Year of publication
Languages
Français, English, Español
ISBN/ISSN