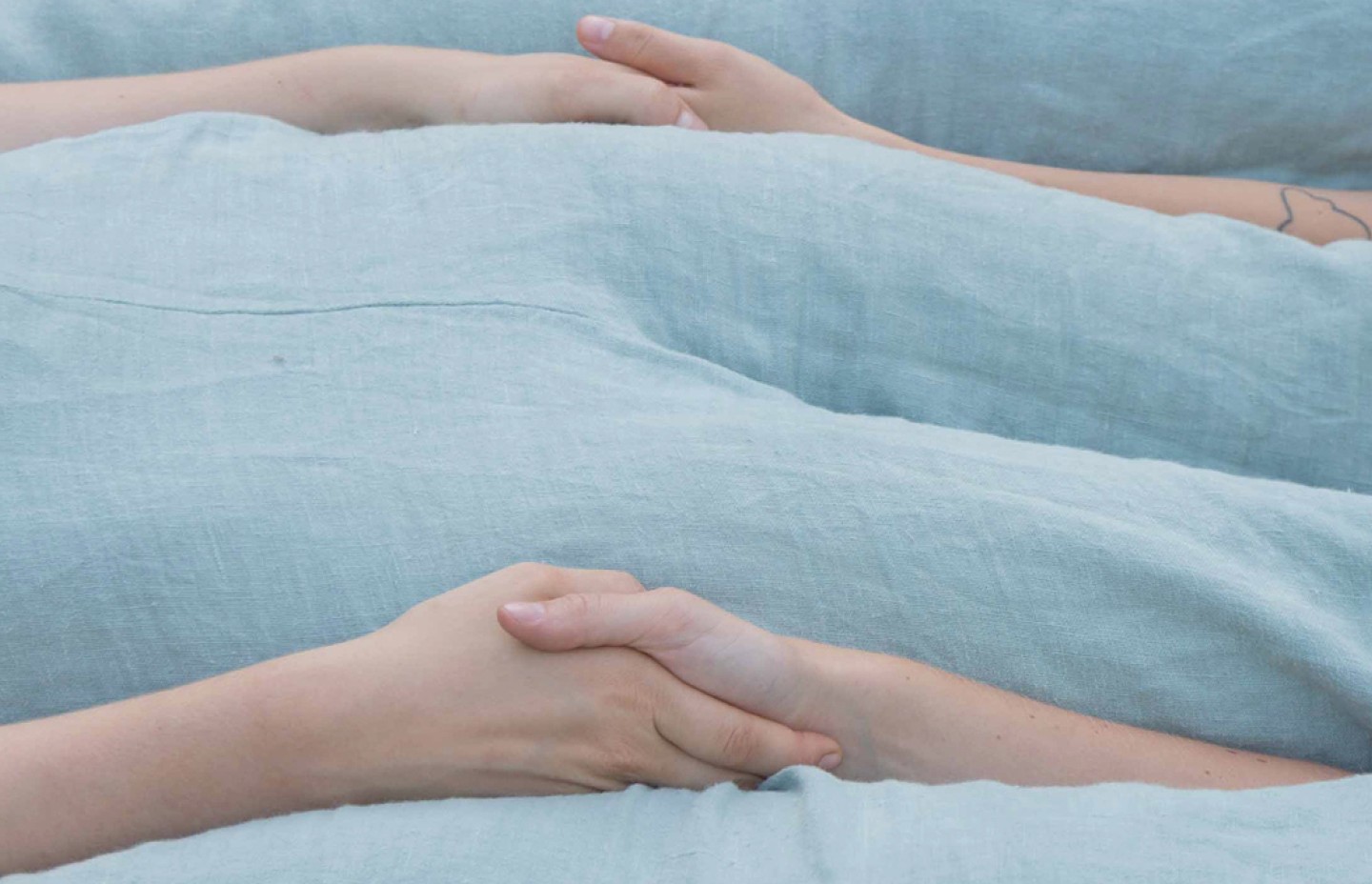 siesta blue
doux soft club
Exhibition

Performance

Residency
The exhibition siesta blue by doux soft club (Pénélope Bourgeois, Chloë Baril-chassé, Marion Paquette and Mariane Stratis), as well as the activation / performance of the exhibition, are presented as part of the biennial PERF (Ré) activation.
—
Part of the creation and production of this work has been made possible with the support of Verticale — centre d'artiste, 2018-2019 programming.
The word "siesta" comes to us from Spanish, and designates the sixth hour of the day — when everyone would take a moment together to rest.
siesta blue aims to be a material representation of this temporal interval dedicated to rest, thanks to an immense, protean, silky-soft carpet of a pastel blue shade that subtly reminds one of the sky. The carpet, an object which evokes new meanings and functions, is punctuated with malleable, interactive and varying forms that can be subsequently added and removed through a choreography of gestures. It thus evolves into a collaborative performance piece.
Through the iteration and reactivation of the previous project undertaken thanks to the artist centre Verticale, the doux soft club proposes the installation of this domestic object in a public space. AXENÉO7 supplies that space with one of its galleries, which little by little becomes a physical and symbolic — poetic — space within which the (de)construction of this majestic carpet takes place. This performative siesta encourages a moment of daydreaming and introspection through silent and meticulous movements. Its oneiric shapes, like colourful geometric clouds, fall apart and reshape themselves individually or collectively by the four entities of the club as well as instantaneous formal interventions. The visual voluptuousness produced by the bodies that move through the space modifies the visitors' perception of the later and contributes to gently encourage interactions with the visitor-spectators. Gradually, all the detachable pieces of this carpet move, accumulate, disappear, and glide against each other in a delicate allegory of relaxation.
— Jean-Michel Quirion
The doux soft club is a collective of artist-curators gathering the artistic practices of the duo pénélope and chloë, Marion Paquette and Mariane Stratis. The four artists met while pursuing their undergrad degree in Visual and Media Arts at the Université du Québec à Montréal (2012). It is through many exchanges and the desire to see their practices evolve together, that was born doux soft club (2017). The poetry and sculptural aspect of their respective work is their rallying point. The club is a flexible structure that leads to engaged collaborations: an effort to better share, exchange and influence each other's practice. Driven by a desire for cohesion, the doux soft club sees as essential the "rapprochement" of plural visions.