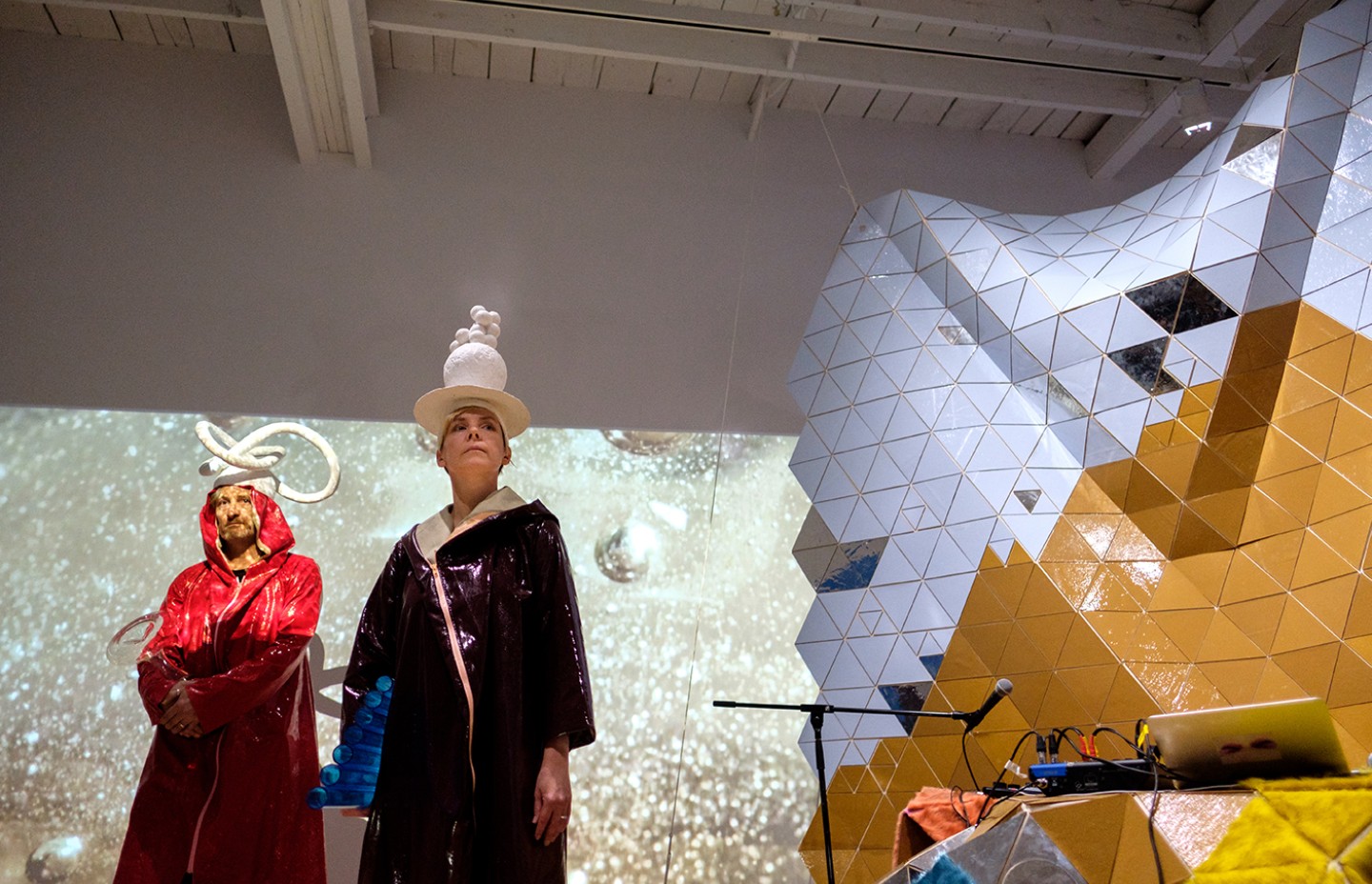 Quelque part dans l'inachevé
Sarah Wendt + Pascal Dufaux
Performance

Conversation

with Jean-Michel Quirion (Gatineau)

Residency

Exhibition
Sarah Wendt + Pascal Dufaux (Montreal) activate their exhibition Quelque part dans l'inachevé, presented at AXENÉO7 from September 18 — October 26, 2019. The artist duo will present an exclusive performance; activating protean objects presented through the exhibition.
Sarah Wendt, born in Charlottetown, PEI, is a Montreal-based multidisciplinary artist. Her work often involves choreography, performance, musical scores/conducting, installation/sculpture, and is developed as a kinaesthetic response to the contingencies of collaboration. She studied contemporary dance at MainDance in Vancouver and French horn at the University of Victoria. She was a DanceWEB Europe Scholarship recipient in 2007, and the 2014 APAF Artist in Residence in Nova Scotia. Recently, she was a faculty member at the Holland College School of Performing Arts, Charlottetown, where she taught improvisation in voice and movement, contemporary dance and creative process. Her work has been shown in contexts such as: Mois Multi, Symposium de Baie-Saint-Paul, Galerie de l'UQAM, Galerie Hugues Charbonneau, l'OEil de Poisson, Art in the Open in Charlottetown, Encuentro Hemispheric Institute for Performance and Politics, Anode Festival in Melbourne (Austria), OK Quoi!? Contemporary Arts Festival in Sackville, Galerie Verticale, OFFTA festival d'arts vivants and VIVA! Art Action.
—
Pascal Dufaux, born in Marseille (France), living in Montreal, had studied stage design and visual arts at Concordia. He has carried out residencies at the Christoph Merian Foundation in Switzerland, the Finnish Artists' Association. His work has been presented at venues across Canada, Mexico and Europe including exhibitions in Créteil, Maubeuge, Lille and Marseille, and festivals such as Mapping in Geneva, Festival Image in Vevey (Switzerland), BIAN and Mois de la Photo in Montreal, Lab30 in Augsburg (Germany). Since 2015 his recent work has been shown at the Carl Solway Gallery in Cincinnati, Confederation Centre art Gallery in Charlottetown, and in the context of the Feature Art Fair in Toronto. His work is represented by Roger Bellemare et Christian Lambert Gallery in Montreal.
—
Since 2015, Sarah and Pascal have been working collaboratively in a multidisciplinary visual art practice.