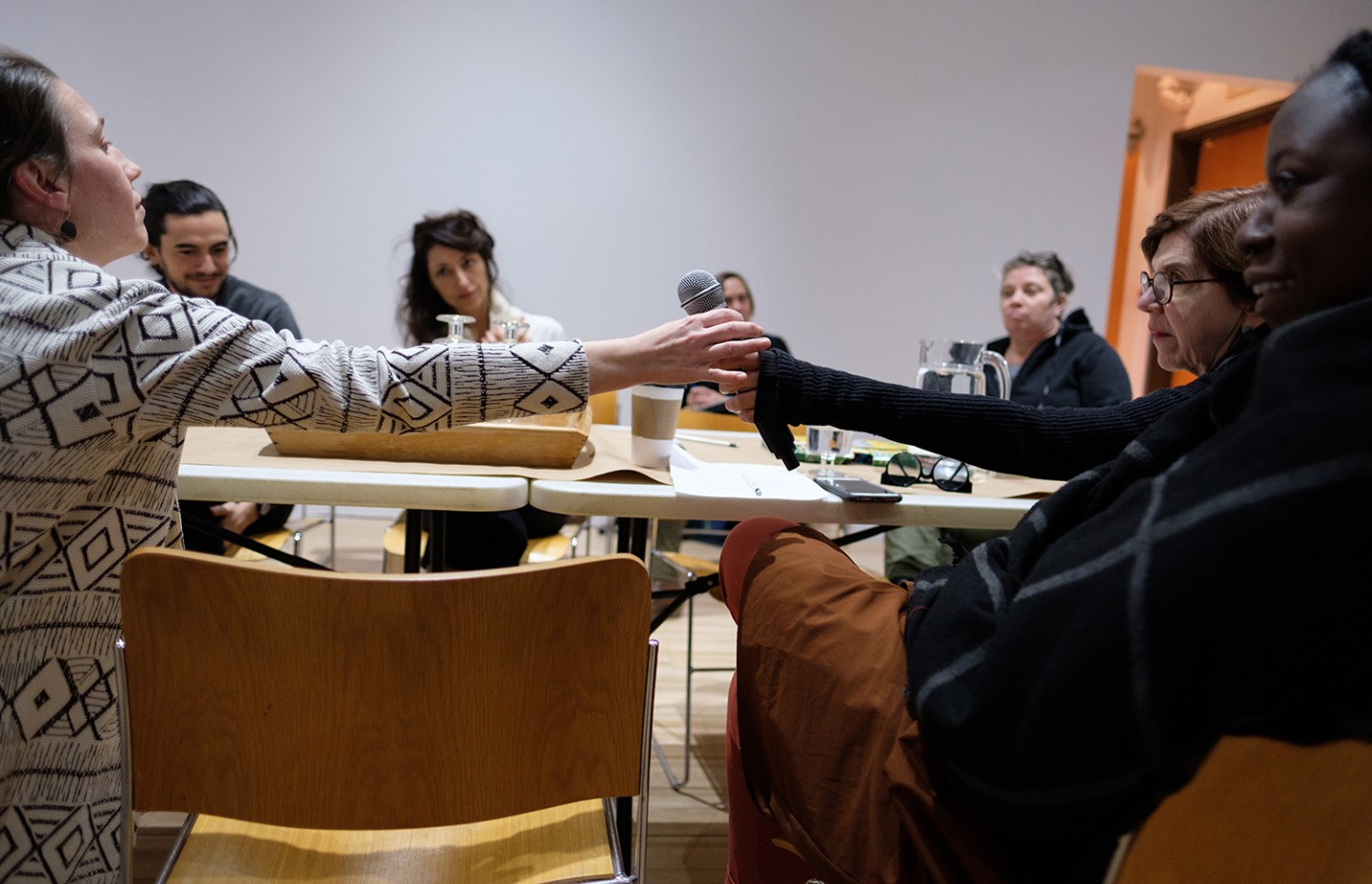 Activer l'expérience de pensée
Discussion
AXENÉO7 and Galerie UQO join together for a collective workshop on the methods of activation at the heart of the performative practices presented this past year. "Activation" in performance speaks not only to the physical acts of the artists' bodies, but also to the documentation — photographic or video — that comes out of the proposals of performance, of objects, of installations, of exhibitions as well as of institutions.
In the spirit of experimentation, the stakes of activation unfold throughout the day's activities, taking on a performative and procedural dimension: a first person is invited to participate, who then invites another, who then solicits yet another person to join, and so on. This invitational process by the participants "to activate" declares the thematic of the day. This event, taking a Long Table approach, will hold space for diverse introspections on the relationship between activation and action, and thus, through an interdisciplinary practice, the nature of performance.
With the participation of Eunice Bélidor (Montreal), Shauna Janssen (Montreal), Véronique Leblanc (Montreal) and Didier Morelli (Chicago).
Hosted by Mirna Boyadjian (Galerie UQO) and Jean-Michel Quirion (AXENÉO7).
Born and based in Montreal, Eunice Bélidor is a curator, critic and researcher, and the 2018 recipient of the The TD Bank Group Awards for Emerging Curator from the Hnatyshyn Foundation. Her practice focusses on contemporary Haitian art, fashion design, performance and Black feminism. She holds a B.A in Art History from Concordia University (Montreal), a M.A in Art History & Visual Culture, and a graduate diploma in Curatorial Studies from York University (Toronto). She has organized and curated various exhibitions, the latest being Over My Black Body at Galerie de L'UQAM (Montreal) and SPIKE (Berlin). Her writing has been published in Hyperallergic, Canadian Art, the Journal of Curatorial Studies, Invitation, InCirculation, and Espace Art Actuel. She is the creator of #CuratorialTips, a research and help tool for curators. She regularly takes part in various juries and committees, such as the Conseil des arts de Montréal, the Canada Council for the Arts and the City of Montreal. She currently is Director of the FOFA Gallery at Concordia University.
—
Shauna Janssen is Director of the Institute for Urban Futures at Concordia University, where she also holds a University Research Chair in Performative Urbanism. Her research and creative practice are consonant with critical interdisciplinary spatial practices, scenographic and performative explorations within public spaces, and include site-responsive performances/ installations, urban interventions, and community collaborations. She has been commissioned to curate public art projects for the Centre d'histoire de Montréal, La Fonderie Darling, Montréal Arts Interculturels, and Parks Canada. She has given public lectures at cultural institutions in Montréal such as the Canadian Centre for Architecture, Articule, and the McCord Museum. Internationally, Shauna has participated in various research-creation activities and artist residencies hosted by institutions such as the Centre for Art and Urbanism, Berlin; the School of Art, Design & Architecture Creative Exchange Institute, University of Tasmania, Australia; the Department of Spatial Design, Massey University, New Zealand; the XX Architecture and Urbanism Biennial, Chile; and Performance Design at Roskilde University, Denmark.
—
Véronique Leblanc is an independent curator, writer and lecturer at Université du Québec à Montréal. She is interested in context, process, and relational-based practices, as well as in connections among art, ethics, and politics. Her recent curatorial projects include Chto Delat? Performatives Practices of Our Time (VOX, 2018), Richard Ibghy & Marilou Lemmens, Putting Life to Work (Leonard & Bina Ellen Art Gallery, Montreal, 2016), Polyphonies (Optica, Montreal, 2015), and faire avec (AdMare, Magdelen Islands, 2013). She holds an MA in art history from the Université du Québec à Montréal and was awarded the 2015 Prix John R. Porter from the Fondation du Musée national des beaux-arts du Québec, as well as the Canadian Art Writing Prize in 2011. Her current research concerns imagination of the common in contemporary art and a group of art practices that combine collaborative and performative approaches with documentary strategies. She lives and works in Montreal.
—
Didier Morelli is a PhD Candidate in the Department of Performance Studies at Northwestern University, in Chicago. His dissertation, Form Follows Action: performance in and against the city, New York and Los Angeles (1970-1985) focuses on the relationship between the built environment and the kinesthetic nature of performing bodies. As an interdisciplinary artist, Morelli combines practice and research in both his academic and performative explorations. Prior to undertaking his PhD, he completed a Master of Fine Arts at the School for Contemporary Arts, Simon Fraser University, in Vancouver (2014), as well as an MA from the Centre for Drama, Theatre, and Performance Studies at the University of Toronto (2012). His writing has been published in Canadian Theatre Review, C Magazine, Decoy Magazine, esse arts + opinions, Performa Magazine, and TDR: The Drama Review.